Hello!
Do you know how to grow squash – winter squash?  There are many varieties of squash, we have many types of squash to choose from. When growing squash, you need to have room for the vines to spread out or grow vertically, where they can climb up a sturdy trellis to make more room in your garden.
Are you interested in growing squash? Winter Squash? Keep reading below and I will talk about the winter squash nutrition, a little history of the squash, the different types of squash and how to grow squash from seed.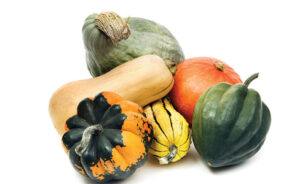 Winter Squash Nutrition
I am going to talk a little about the winter squash nutrition I found in my research.  Winter squash is a dense texture compared to the summer squash. It's firm flesh and great flavor is great for making breads, casseroles, desserts to hardy soups and stews. The easiest way to eat it, is to cut it in half, (remove the seeds), face down on a baking, add a little water and bake for 30 to 45 minutes depending on the size, bake at 400 degrees, until fork tender. Scoop out the heated flesh. The seeds that were scooped out before you cooked, is also edible too. Just like pumpkin seeds. Bake them as well by themselves in a single layer.
According to the Harvard Nutrition Source, winter squash is rich in nutrients
Carotenoids: beta carotene (a precursor to vitamin A), lutein, zeaxanthin
Protein
Vitamin C
Vitamin B6
Fiber
Magnesium
Potassium
There has been some research on several nutrients in squash like the carotenoids, vitamin C, polysaccharide fibers, and minerals such as potassium and magnesium and their health benefits. In some cultures they used winter squash for medicinal purposes to treat cancer, diabetes, high blood pressure, high cholesterol and inflammation.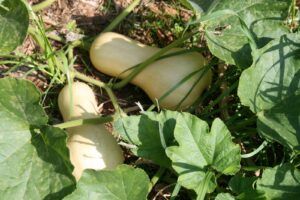 Squash is low in calories (45 to 90 calories) per cup depending on the type and what you put on it after it's cooked. Butternut squash has less than half the calories of a sweet potato. Squash also contains polysaccharides, a type of indigestible fiber that can prevent blood sugar from rising after eating.
History of Squash
The history of squash goes back many, many years ago were present back in the Holocene Epoch. The modern varieties today were bred by indigenous people of North and South America. Seeds spread worldwide due to the new established trade routes, continued breeding, selection lead to the varieties available today.
Types of Winter Squash
There are several different types of winter squash. Here are some of the most common types of winter squash. There is a few of them that I never heard of before, until I was researching this topic. I planted 4 types of winter squash, Buttercup, Butternut, Spaghetti and Pumpkins. Yes, pumpkins are part of the squash (gourd) family.
Acorn – is small, round and has a dull, dark-green rind with orange markings. The flesh is yellow-orange with a mild sweet and nutty flavor that's perfect for baking, roasting, steaming, sauteing or even microwaving (make sureto pierce the skin first). Store acorn squash for up to 1 month.
Banana – has orange, pink or blue skin, and bright orange flesh. Large and elongated, one banana squash can weigh up to 35 pounds! Because of its size, banana squash is often sold in pre-cut chunks. This can be stored whole for up to 6 months.
Buttercup – is dark green with light-green stripes and a defined round ridge on the bottom. Its bright orange, somewhat dry flesh is very mild in flavor and much sweeter than other types of winter squash. Store whole buttercup squash for up to 3 months.
Butternut – has a creamy, pale orange exterior. The more orange the skin, the riper, drier and sweeter the flesh will taste. The skin is easy to peel, and both the skin and the seeds are edible. Whole butternut squash will keep for up to 3 months.
Carnival – is a cross between acorn and sweet dumpling squash. The exterior of a carnival squash has deep and variegated stripes and patterns in green, orange and creamy yellow. Look for carnival squash that still have some green on them, indicating that they're ripe but not past their prime. Store whole carnival squash for up to 1 month.
Delicata – known as Bohemian or sweet potato squash, it has a cylindrical shape and has pale-yellow skin with green stripes. When cooked, its orange flesh tastes similar to sweet potatoes with an earthy flavor. The rind is more delicate than most squash varieties, making it easy to work with. Store whole delicate squash for up to 3 months.
Hubbard – has very hard orange, green or grey-blue skin, and sweet orange flesh. It's also large and lumpy. Because of its size, it's usually sold pre-cut and seeded. Store it whole for up to six months.
Kabocha – also known as Japanese pumpkin. The small, squat and mostly available with dark-green skin. It's sweet, bright-orange flesh tastes like a cross between pumpkin and sweet potato. Store whole kabocha squash for up to 1 month.
Spaghetti – is cylindrical with pale to bright yellow skin. The yellower the skin, the riper the squash. After it's cooked, you can scrape the flesh into strings that resemble spaghetti noodles, except they have about 165fewer calories and 30 fewer carbohydrates per cup. The whole spaghetti squash can be stored at room temperature for several weeks.
Sugar Pumpkin – are small and round with bright-orange flesh. Used for pumpkin pies, not jack-o-lanterns. Store whole sugar pumpkins for up to 1 month.
Sweet Dumplings – These are small with white-yellow skin and green striations, sweet dumping squash tastessimilar to sweet potatoes or corn. Store whole sweet dumpling squash for up to three months.
Turban – has bumpy skin that can be green, orange, yellow, or all three colors in one. The blossom end has a turban-like cap, and the flesh tastes mild to sweet. Store whole turban squash for up to 3 months.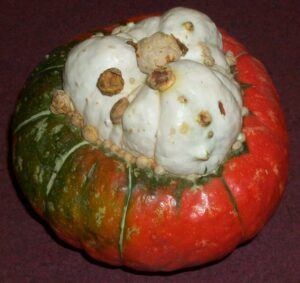 How to grow Squash from Seed
You can either direct sow squash seeds in the garden or start them indoors like I did. I started them about 6 to 8 weeks before I planned on planting them in my garden.
Plant depth – 1″ or 3 cm
Spacing – 3′ or 3 m
Spacing between rows – 6″ or 26 cm
Days to Germinate – 6 to 10 days
Space after thinning – 30″ or 76 cm
Days to Maturity – 95
If you are direct sowing, find a sunny location and sow seed in the spring when the soil has warmed. If you are starting them indoors follow the same plant depth for planting the seed in a container and put in a sunny location or grow light.
Allow the fruit to remain on the vine until the skin is hard enough to resist scratching.
Pick before frost.
Leave part of the stem attached
Recommended to wash in a solution of 1 cup bleach to 3 gallons of water. Cure fruit for 1 week in a warm, dry place.
Store in a coll place with low humidity 45 to 55 degrees.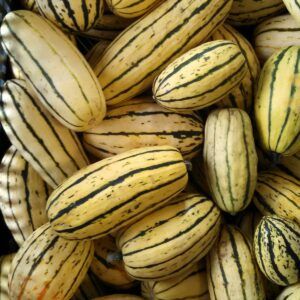 Happy Planting!
I love squash season and love watching them grow in my garden. Like I said earlier, I am growing Spaghetti, Buttercup and Butternut Squash in my garden. I started them all from seed then planted them in my garden once the frost danger had past. Somehow, the buttercup squash stem broke, so I direct sowed a couple seeds in its place. The new sprout already is up. It will be a little behind from the other squash but it will be OK.
Do you grow squash? What varieties do you grow in your garden? Do you let it wander anywhere or do you grow vertically? Leave a comment below, I would love to hear from you!
Cheers!
Chris

Please follow and like us: