Hello,
I wanted to discuss the different types of hardiness zones for planting flowers and vegetables outside within the U.S. We will discuss the different hardiness zones, the difference between annual and perennial plants, and when planting can begin in the spring.
Planting Zones in the US
The climate is different all over the United States, so every flower or vegetable will not grow in every state. There are 10 different zones within the United States. When selecting plants, annuals or perennials, you need to make sure the plant can thrive in your climate zone. The difference between an annual and perennial plant is their life cycle. The annuals complete their life cycle in one season, which is typically spring to fall. Perennial plants tend to come back every year. So checking the gardening zone map is essential to making sure you purchase plants or seed that can thrive in your growing zone. The hardiness zone map is based on average annual minimum winter temperatures. The map is divided into thirteen distinct 10ºF zones, which are further divided into sub-zones of 5°F. Here is a picture of the gardening zone map for the United States.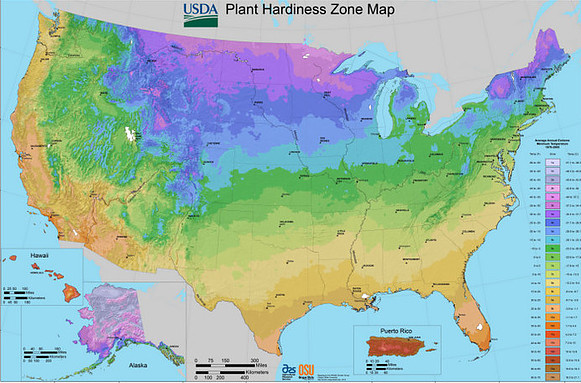 Here is a closer look at the Average Annual Extreme Minimum Temperature from 1976-2005 that I found to clearly show the gardening zone map temperatures.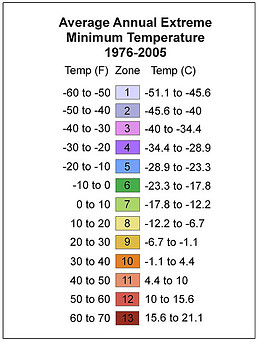 Planting Zones in Michigan
I live in Michigan so I wanted to concentrate a little on my state. We have technically four zones in our state; zone 3, zone 4, zone 5 and zone 6. I am in zone 5 for our growing season. I am located in Arenac county, the sunrise side of the state, on 20 acres. I really like to grow fruit trees, different types of bushes, perennials and annuals. When I go to purchase seed or live plants I have to consider the zone I am in. I am in gardening zone 5. We have several fruit trees on our property. We have several apple trees, and pear trees, I also have a sour cherry, plum and peach tree we planted last spring. I am also trying to load my flower gardens with perennials, so I don't have to do as much planting the following year. I have started my list for my vegetable garden for this coming spring. I am also converting an overgrown weed/flower garden into a cottage garden. I have been reading about those. The more plants you fill in with the fewer weeds you have to deal with.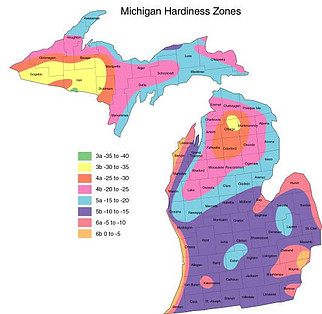 My growing season is gardening zone 5, which is end of May to October, depending on if we have an extended summer or not. If we have a warm October it could last until Halloween but usually done before then.
Planting Zones Southeastern US
I know quite a few people who live in the southeastern US, including my daughter who is in the northern Alabama area. They definitely have a warmer and longer growing season. Her zone appears to be growing zone 7. Growing vegetables and plants in this zone have different and unique plants that can be grown here versus the northern climate. For most of the Southeastern area their growing season is March to December, depending on where you live. Southern Florida their growing season is all year and other parts of the area start early February.
Texas matches the growing seasons of the Southeastern region. Texas growing zones are 7 through 10.
.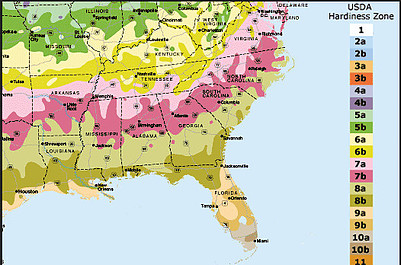 Some plants I like are the Southern Magnolia, they are so beautiful and lush. Other plants like Pink Muhly Grass, Oak leaf hydrangea and Carolina Jessamine. The picture below is a Southern Magnolia blossom. They are a beautiful tree. I wish I could grow them in Michigan. I considered doing a container grow in the house during the winter. I will still need to think about that.
.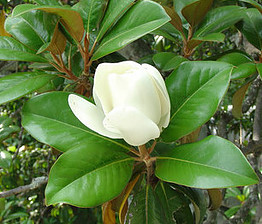 Planting Zones Southwestern US
We have another unique growing zone, in the southwest US. It's a little dryer in this desert area with a whole new host of plants to grow that are different from any other zone. This area has some of the coldest zones to some of the warmest. It touches all the zone on the legion. Places like Southern California, Arizona and New Mexico are able to grow cacti. It grows wild there. When I worked as a consultant in Albuquerque, NM for a 1 1/2 years I saw tumbleweed like in the cartoons.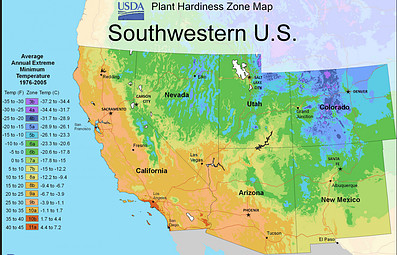 I found a picture of some bunny ears' cactus that goes in zone 8 thru 10. I thought they were so cool looking, especially with the yellow blossoms,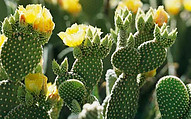 Planting Zones for Alaska and Hawaii
These 2 places are extreme oppose for growing zones.
The state of Alaska
I found this plant hardiness zone map and Alaska has zone 1 thru 8. It would be a little more difficult to grown in Alaska. As it is the coldest state in the nation. Some parts of Alaska have very long and harsh winters with a very short summer window. Despite the cold there are a few plants that do very well in Alaska; forget-me-nots, Salmonberry, Monkshood and fireweek. A few vegetables would be; turnips, chard, beets, cabbage and dill. Anyone here from Alaska? Would love to hear about your growing season.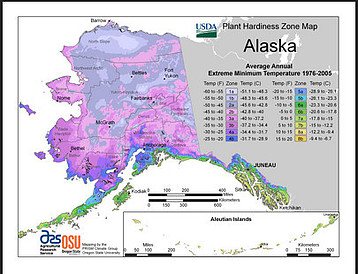 The state of Hawaii.
Hawaii is the home of the exotic fruits and vegetables. Where the orchids and pineapple grow! I would have to say the growing season here never ends. Hawaii has growing zones from 9 to 13. They grow macadamia nuts, mango, banana's and strawberry guava. Mango's is a common dooryard tree. Does anyone live in Hawaii? I would love to hear if you have a garden and what is planted in it.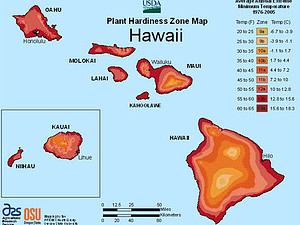 Happy Planting!
As you can see, you need to find out where you live on the gardening zone map to know which zone you live in to purchase the plants that will thrive in your area. What zone are you from? Anyone from outside the USA? If so, I would like to check out your growing zone and if you have a garden plan for the spring.
Interested in extending your grow season?  Thinking about a greenhouse or cold frame?  Check out my Review – Backyard Greenhouse Kits.
I hope you found this helpful!
Cheers!
Chris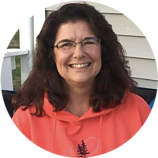 Please follow and like us: