Hello!

Today I am going to talk about where to order seeds online. It seems I have become a seed hoarder and a collector of seeds. When I go to a local store, I find seeds, or purchasing seeds online, I buy more seeds. You can purchase just about any seeds imaginable. You can buy organic seeds online, heirloom garden seeds, vegetable garden seeds and just about any flower seed you can imagine.
I am going to review, where to order seeds online, for 3 difference online sources. This was a difficult piece to write because I kept getting distracted of all the different seeds I could purchase. I found more seeds I don't have, imagine that. Let's get started. I am going to review Botanical Interests, Burpee and Seeds Now.

Name: Botanical Interests
Website: www.botanicalinterests.com
Location: Broomfield CO
Facebook Review: 4.9 out of 5 – 109 Reviews
There were no reviews for Botanical Interests from TrustPilot

Botanical Interests, Product Overview
Botanical Interests is a Colorado-based seed company whose beautifully illustrated seed packets contain much more than just seeds.
The company's catalog includes more than 500 varieties of vegetable, herb and flower seeds, including many organic and heirloom varieties. Gardeners can buy individual packets or select from 23 different seed collections to make planting easier.
On the header of the website you can select which seed types you are looking for, vegetables, flowers, herbs and organic.  They have articles and blogs to help with gardening.
Shipping is anything under $9.99 rate is $3.95.  Anything between $10 to $149.99 has different shipping rates.  Anything $150.00 or more is Free
The Positives
More than 500 Varieties of seeds
Seed costs are competitive $1.89 to $5.00 depending on seeds
Digital Catalog Available
Some garden supplies and gifts
Over $150 purchases – Free Shipping
The Negatives
Gardening supplies are limited
Basically a seed store
I didn't really find any more negatives for Botanical Interests.  I do love their seed packaging.  Botanical Interests have been in business for over 25 years.
Name: Burpee
Website: Burpee.com
Location: Warminster, PA
TrustScore: 4.4 – 20,747 Reviews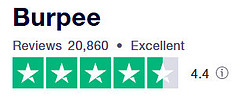 Burpee, Product Overview
Burpee seeds and plants are available for all hardiness zones and for all seasons and Burpee guarantees each and very product. In order to keep pace with the changing times, Burpee's highly recognized catalog can now be viewed online.
Burpee.com can be used as a one-stop-shop for gardening techniques, recipes, FAQs, etc.  Burpee has been in the gardening business for over 140 years.
Able to shop for seeds and live plants by zone.
Their Standard Shipping rate on all seed packets $2.99.  Up to $10 is $3.95 for shipping and up to $150.00 is $18.95.  $150.00 or more is 13% of total order.
The Positives
Wide Variety of Gardening Supplies
One Stop Shop
Yearly Catalog of new and current seeds
Over 140 Years Experience
The Negatives
Seeds are kind of expensive
No Free Shipping of any kind
Burpee is a very well known online garden center and has been around for over 140 years.  Burpee has lots more then just seeds.  They have live plants, live roots and gardening supplies of almost every kind. Burpee is more of a one-stop shop for gardening seeds, plants and supplies.

Name: Seeds Now
Website: seedsnow.com
Location: Thousand Oaks, CA
TrustScore: 4.1 – 27 Reviews


Seeds Now, Product Overview
Seeds Now is an online source for 100% Heirloom, NON-Hybrid, & NON-GMO Seeds.  Seeds to grow organic.  There were no reviews available on Facebook but has 74,016 followers.
They package seeds in a re-sealable moisture-proof pack, never use paper envelopes.  They offer a 100% customer satisfaction.
When I reviewed the website, the home page presented an alphabet to select a letter for what the beginning letter of the seed is.  You can also select a category on the header to find what you are looking for as well.
Offers seeds-of-the-month for your garden.  Delivered at the right time to start the seeds indoors.
A fun surprise every month.  Membership starts at only $5/month.
They also have available grow guides for just about everything you want to grow.  The ability to search seeds by zone then category; vegetable & fruit and flower & herb.
The Positives
Wide Variety Seeds
Certified Organic Seed Company
Specializes in seed banks
Seed of the month club
Rewards program – for special discounts and offers
Free eBook for organic gardening
The Negatives
Unable to find negatives
Unable to find out how long in business
I was not able to find out how long Seeds Now has been in business.  I would assume it's a fairly new company with only 27 reviews but they were all mostly positive.
My Final Thoughts
In my review I find any of these 3 places are all great to order garden seeds online.  I have actually purchased seeds from all 3 places and never had any troubles.
I am actually looking at purchasing some live plants from Burpee, and of course I found some seeds to get to add to my cottage garden project this spring.
Purchasing at any of these places would be a personal preference.  If you are looking for more then just seeds then I would recommend Burpee, they also have gardening supplies too.
Hope you found this post informative and helpful.  Please leave a comment below.
==>Click Here for Botanical Interest Purchases <==

==>Click Here for Seeds Now Purchases<==
Happy Planting!
Chris

Please follow and like us: