Hello!

With spring coming up in a few months, I am starting to plan my vegetable garden. I won't be doing any container gardening per se' unless I decide to try potatoes and onions. My garden will be in the ground.
I wanted to discuss having a container vegetable garden for people who have limited space, living in the city or in an apartment. I lived in the city for over 20 years and had a small raised garden bed and some containers on my porch. I also had a raspberry patch as well.  See picture below.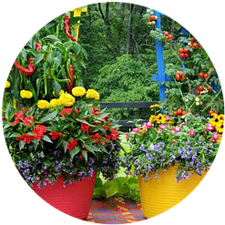 You can grow sustainable produce for your consumption at home. We will discuss vegetable grow zones, best vegetables for container growing, the best containers for vegetable gardening and the best soil mix for container gardening.
This picture here is showing how to incorporate vegetables and flowers in the same container and using a trellis for the vegetables to climb.  Very cute idea for container gardening.
Vegetable Grow Zone
When growing vegetables you need to know what zone you are in. If you are having a container garden outside or move the garden outside, that you started inside, you need to know what time of the year it's OK to put them out there.
I live in zone 5 and to be able to leave my containers out all night without covering them would be the end of May or beginning of June. If you have a higher grow zone number you would be able to start planting, in some places as early as February or March.
Make sure you know your zone before picking and planting your vegetables.
The Best Vegetables for Container Gardening
There are 11 vegetables that do best growing in containers. These vegetables listed below will provide the best yield for small places. I really enjoy container gardening. I like growing plants anyway but growing your own vegetables to eat is awesome and good for you too.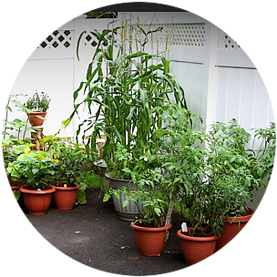 Beans
Beats
Chard
Chili Peppers
Kale
Lettuce
Onions
Radishes
Spinach
Sweet Peppers
Tomatoes
These vegetables do well in containers. Actually I think you could grow anything in a container if the conditions are right. Growing food in containers is often the easiest way, especially for city and apartment dwellers.
Growing vertically up a trellis is ideal for small spaces or using vertical planters.  I have grown tomatoes, jalapeno peppers, and cucumbers in a container garden before.
Also, you can grow vegetables that grow under ground in containers like potatoes, onions and carrots, using special containers bags.
The Best Containers for Vegetable Gardening
Of course, there are many different types of containers. Again it depends on the space you have. There are containers for small yards, porch gardens, balcany gardens and indoor vegetable gardens. The common types of containers are;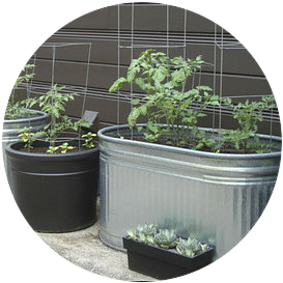 Clay pots
Decorative Ceramic Pots
Stone Containers
Wooden Containers
Metal Pots
Fiberglass Pots
Plastic Containers
Polystyrene Pots
These are the basic pots that are used. Containers should always be large enough to accommodate the plants. If the pots are going to be outside all the time they need to be sturdy pots that work well in outdoor elements and they usually last forever.
I have come across pots for potatoes, where you can harvest from the bottom of the container. They are called potato grow bags.
The other type of pots that are new for containers are fabric pots non-woven aeration fabric with reinforced handles. For outside containers this is a good idea due to the great drainage, they do not retain excess water and allowing the roots to breathe, which is better for the plants and better production.
Best Soil Mix for Container Gardening
Choosing potting soil for container gardening doesn't need to be rocket science. Finding an all-purpose potting soil that is nutrient-rich mix for growing most types of plants in containers. Having a good soil is the foundation of having healthy plants.
Choosing soil for outdoor potted plants is important. Never use soil from other plants or dirt from the yard. It is very important to use a high quality soil for container gardening. Make sure you read the label to see if the soil was created for a specific purpose.
There are many types of soil when you go looking at the store. Never use garden soil in containers. Garden soil is too heavy for containers and will become compacted in the container. It will get difficult to grow in this dirt. Use garden soil to add to the garden, not containers. Finding a good all-purpose soil for containers is the way to go.
The best soil for hanging baskets and plantar boxes is a soil less potting mix. It is made of coco coir or meat moss, there is no compost or sand in this mix This helps with the weight adding to the plantar box or hanging basket. Using even a potting soil these tend to get very heavy and the soil less mix helps with the weight issue.
Check out the wall planter, it has a mix of flowers, herbs and small veggies.
Plants need food, I would use an organic vegetable fertilizer or general purpose fertilizer. There are lots of options now for natural fertilizers and easy to use.
Happy Planting!
As you can see, there are many different options for container gardening, if you have a small yard in the city or apartment dwelling where you have a porch or balcony to grow vegetables. There are lots of different containers to chose from and making sure you use the correct soil for container gardening.
Are you planning a container garden this year? If so, please share.
Interested in Greenhouse solutions or Cold frame?  Check out my Review – Backyard Greenhouse Kits – By Clicking This Link Now!.
Indoor gardening solutions ideas, check out my review for the Smart Garden Review – By Clinking This Link Now!
Check out my review for Raised Bed Garden Kits.
Below is a picture of my raised bed garden in 2013 when I lived in the city!
Cheers!
Chris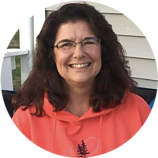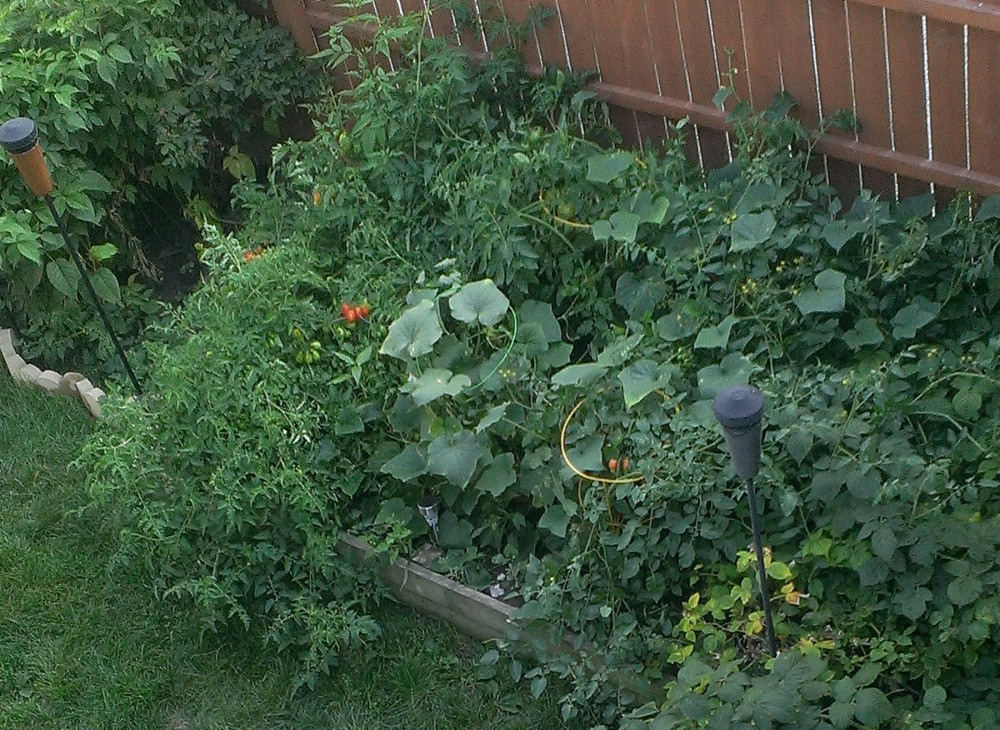 Please follow and like us: