Hello!
One of the most beautiful deciduous conifer, in my opinion. In this post I am going to discuss, how to grow tamarack tree's from seed. I have 3 Tamarack trees on my property. There are many tamaracks in our area between Sterling and Alger MI on highway Old 76 by Oasis county park. They have some beautiful trees. The tamarack tree has a botanical name called the Larix Laricina, and is also called the American Larch. Alaskan Larch or Eastern Larch.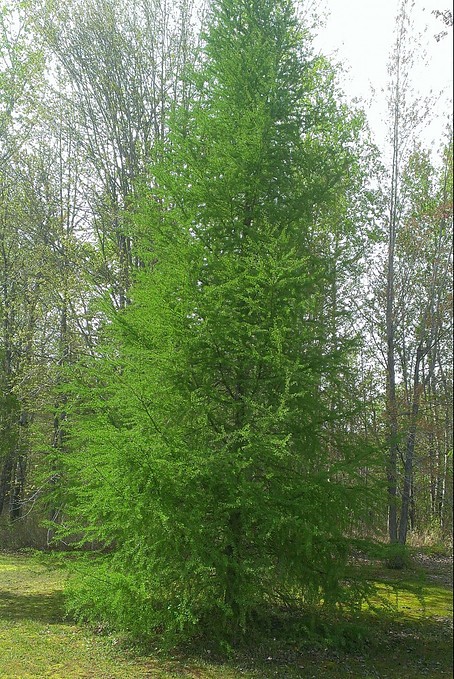 Tamarack Tree information
Here is some information about the Tamarack tree. The tamarack tree is pretty easy to take care of once it's established. They are found in the northern forests of North America. They like full sun, wet, boggy, shoreline areas, well drained loamy soil by rivers, swamps and lakes.
Botanical Name – Larix laricina
Family Name – Pinaceae
Plant Type – Deciduous Conifer
Sun Exposure – Full sun
Soil Type – Moist, organic-rich
Soil pH – Acidic
Bloom Time – Non-flowering
Flower Color – Non-flowering
Hardiness Zones – 2-5, USDA
Native Area – Northern North America
I had read somewhere the word akemantak is an Algonquian name for the species and means "wood used for snowshoes" from the Native Americans. Tamarack tree identification the bark is light, flaky and pink. Under the flaking bark the tree the bark looks reddish. The needles are 3/4 to 1 1/4 inch short, light blue-green and they turn a bright yellow in the fall just before losing their needles for the winter.
Tamaracks are very cold tolerant. They are able to survive temperatures that can reach -85 degrees Fahrenheit (-65 C) that can commonly occurs at the Arctic tree line at the edge of the tundra. The trees in the severe conditions are smaller than the farther south, often 15 ft tall (5 m).
Starting Tamarack Tree from Seed
Starting tamarack tree from seed, you will need to find a tamarack tree with pine cones. Tamarack is monoecious which is
having pistillate and staminate flowers on the same plant. Male and female cones are small, either solitary or in groups of 2 or 3, and appear with the needles. Male cones are yellow and are borne mainly on 1- or 2-year-old branchlets.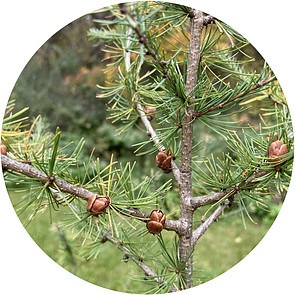 Female cones resemble tiny roses.  They are reddish or maroon, have needles at their base which are shorter and bluer than the other needles on the tree. They are borne most commonly on 2 to 4-year-old branchlets, but may also appear on branchlets 5 or more years old.  Cones usually are produced on young growth of vigorous trees.  On open-grown trees, cones are borne on all parts of the crown. Mature seed cones are brown, oblong-ovoid, and 13 to 19 mm (1⁄2 to 3⁄4 in) long.
I have one of my tamarack trees have cones. They were like the description above they resembled time roses and were reddish. I removed several of the cones once they had ripened and put them in a bag. I harvested a bunch of the seeds from the cones. I put a sandy loam in a plastic bag. I actually took a little dirt from where my current tamaracks are growing and added it to a plastic bag for the next process.
Stratification Process
The next step is the stratification process. This is the process of simulating winter then simulating spring. I placed the harvested seeds in my dirt sandy loam mixture and put them in the refrigerator for 2 to 3 months. I marked the back with the date I put the seeds in the bag to the date of pulling them out of the refrigerator. The stratification process is getting the seeds to a cold temperature around 40 ish degrees just not freezing.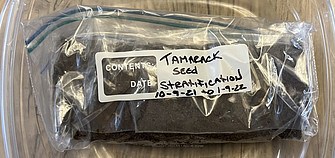 Planting Tamarack Seeds
Once the stratification process has been completed you will want to plant the seeds. I plan to plant them indoors in a controlled environment. I will put them on a seedling warmer. Find a container to plant the seeds and add a sandy loam in the container. I am probably going to put them in on large container, spread out the seeds. I will also add a dome to the top to give it the greenhouse effect. If I don't have a sunny window, I will put them under a grow light.
I read the seeds will take at least 40 days to germinate, so we will need to be patient for germination and keep track of the days to see if the seeds are going to germinate or not.
How to grow a Tamarack Tree
Once the seeds become seedlings, this is how to grow a tamarack tree.  Be sure to give them plenty of water, they will need a constant water supply.  The drought conditions will easily kill the seedlings. Just make sure they have full light and regular irrigation, they should thrive.
If you decide to try to grow your own tamarack tree, you will see they grow really fast. If planted correctly, tamaracks are the fastest growing boreal conifers for their first 50 years. These trees live between 200 to 300 years.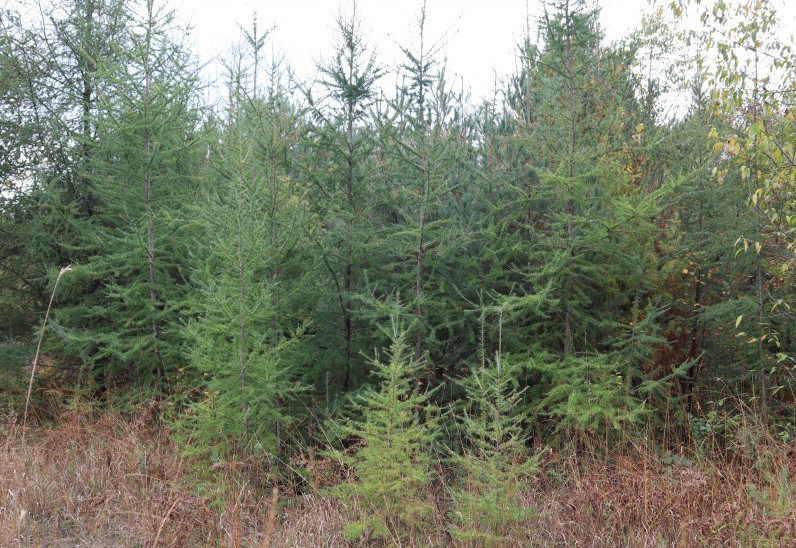 Taking care of the tamarack tree is also easy, once they are established. They require really no work other than irrigation and keeping down competing trees for water. During the first three years, it is important to give your tree water weekly. Follow the standard 10 gallons per inch of truck diameter measured by caliper at knee height. If the weather is really dry, increase the water to 15 gallons, the tamarack will love you for it.
The greatest threat to the tamarack tree in the wild is fire. Their bark is so thin and the roots are shallow, even a light burn can destroy the tree.
The next thing to think about is the larch sawfly and the larch casebearer.  These two insects can inflict major damage to the bark and branches on the
tree by nibbling away at it. If the wounds are severe enough, they can be fatal.  There is no chemical treatment for the larch casebearer, but there are
numerous biological controls. Luckily, casebearer damage is rarely fatal for a tree.
Different types of Tamarack Trees
If you love the tamarack tree but don't have the room there are a few options. Here are a few popular cultivars of tamarack trees to give you some good ideas
Larix laricina 'Northern Torch' is a very dense globose dwarf form of the species. It will only grow to a height of five feet after 10 years.
Larix laricina 'Bear Swamp' is a remarkable low spreading dwarf variety that will get wider than it is tall with pleasing grayish blue needles that are a striking contrast to the yellow needles of autumn. This cultivar only grows about 32 inches by 42 inches after 10 years.
Larix laricina 'Nash Pendula' is a well-known cultivar with bright green foliage and a unique open pendulous form that reaches 10 feet after 10 years.
Happy Planting!
I hope you found this post helpful. Let me know in the comments below if you have any tamarack trees on your property. I will be planting seeds some time in January 2022 and you can check out my YouTube channel for an update on their progress.
Cheers!
Chris

Please follow and like us: