Hello!
Today I am going to talk about planting in the warmer climates, specifically zones 7 thru 10. When planting in the warmer climates, the issue here is heat and not cold. The northern climates you deal with cold and not so much heat.
I am visiting my daughter and grand kids here in the northern Alabama area and was thinking, what is their vegetable growing season here compared to north? One of the major differences growing in the north versus the south is in the north the winter kills off bugs and other pests that will do harm to your garden. In the south those bugs and pest don't die off. When gardening in the south people look for seeds that have some pest control in them.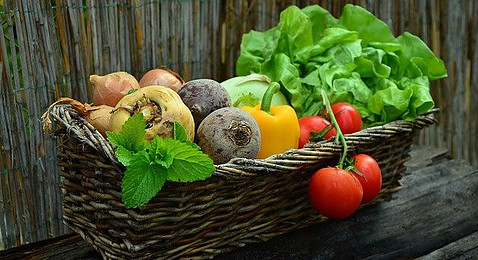 Growing Zone 7
Planting vegetables in zone 7, the early cool weather vegetables can start outdoors in early February. The crops that you can start is;
Beets
Broccoli
Cabbage
Carrots
collards
Kale
Lettuce
Onions
Peas
Potatoes
Radishes
Spinach
Turnips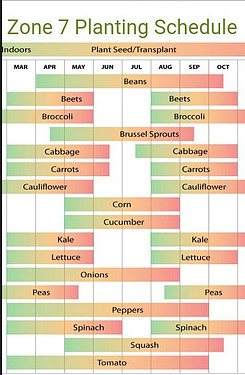 All these vegetables listed for zone 7 can be planted in colder zones, they just can't start planting in the ground until end of May or beginning of June. The corn seeds can be planted in March for Zone 7. In April, you can plant the warmer season vegetable.
Beans
Cucumbers
Eggplants
Okra
Peppers
Squash
tomatoes
Zone 7 gardeners, if they plan it right, they can have 2 growing seasons within the same year. It's recommended to wait until the really hot weather has passed but not much after or the plants won't have time to mature before winter. The cool weather plants can be planted in late August, September and as late as early October. As a reminder for zone 7 gardeners you can begin your seeds indoors before the first frost. This will help extend the growing season a little longer where carrots and broccoli could be planted twice in the growing season.
Growing Zone 8
Gardening Zone 8, covers most of the Pacific Northwest, a majority of America's southern states including Texas and Florida. Living in Zone 8, the winters are mild and low temperatures of 10 to 20 degrees.
Planting vegetables in Zone 8, really follows zone 7. Zone 8 can start 2 to 3 weeks earlier in the summer and 2 to 3 weeks later in the fall. Zone 8 will have a longer planting season and can take advantage of 2 growing seasons like for zone 7.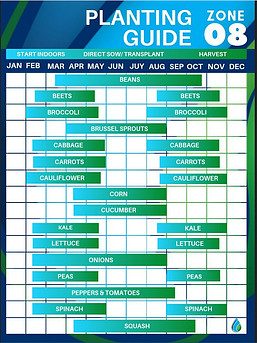 Growing Zone 9 and 10
Zone 9 and 10 gardeners, actually plant their cool weather crops and warm weather crops opposite of what we do in the north. The cold weather crops get planted late summer to early fall, because they hate the hot weather. The cold hardy crops could only be planted once a year and not be included in the 2 growing seasons because of the heat.
On the other hand the plants that like the heat, you could do 2 growing seasons with those or they would grow longer. The growing season for warm vegetables would be planted late March to early April in the garden and the second season would be planted in August or September, except for places like Arizona. Warm weather crops would be planted in August for the second season.
There are some considerations for the southern Gardner. During the hot to extreme hot temperatures, plants will absorb and release moisture to stay cool. Making sure to water frequently and add mulch to help keep the roots cool. Using mulch helps keeps the plants roots cooler and help keep moisture in.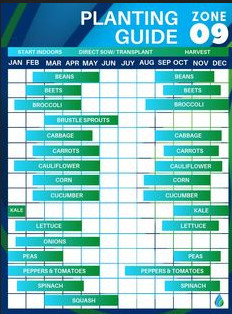 Zone 9 Winter Garden Vegetables – Frost Tolerant
Beets
Broccoli
Brussels sprouts
Cabbage
Carrots
Cauliflower
Chard
Collards
Garlic
Kale
Lettuce
Mustard
Onion
Parsley
Spinach
Turnip
.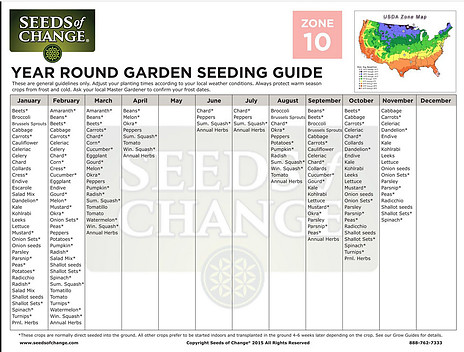 Happy Planting!
Here is information regarding the vegetables and how they are grown in zones 7 thru 10. The important thing is to match the plants needs to the soil. Some cooler climate plants can survive in the warmer climate if the moisture stays in the soil.
A recommendation for the southern gardeners, is to plant with containers for the plants that can't stand the heat, you can take them indoors during the hottest part of the day to protect them.
Anyone out there in grow zone 7 thru 10? Would love to hear about your planting season.
What are your favorite vegetables to grow?
Interested in a greenhouse?  Check out my Review – Backyard Greenhouse Kits – By Clicking This Link Now!.  They can be used for any climate and can be used for sitting areas too. In the review there are also cold frame options and covers for raised beds.
Please like and comment below!
If anyone is interested in other gardening tips please let me know
Cheers!
Chris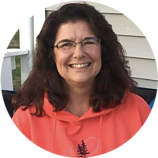 Please follow and like us: