Hello!
Today I want to talk about planting cedar trees.  In this post I will talk about the history of cedar trees, the different cedar trees, discuss the real cedar trees versus the faux cedar trees.
The Red Cedar and White Cedar trees are native to Michigan. We just planted 5 of each cedar tree on our property.  We purchased a bunch of different trees from the Arenac Conservation District that have a tree and shrub sale every spring.
If you are interested in learning about planting cedar trees, please keep reading!
History of Cedar Trees
Some people confuse cedars and juniper trees, they are both evergreen coniferous trees. The cedar and juniper have common traits. A true cedar tree belongs to the genus Cedrus. Which include Atlas cedar, Cypriot cedar, Deodar cedar, Incense cedar and Lebanon cedar. The cedar tree is a tall ornamental conifer that is in the Pinaceae family. They were found in the mountainous regions of the Western Himalayas and Mediterranean Basin.
The junipers or false cedars, can also be called "New World" cedars are found in North America. They are members of the genera Calocedrus, Thuja and Chamaecyparis, which are all part of the Cypress family (Cupressaceae). They received their name because the wood spells like cedar. Most junipers are commonly shrubs but they can be trees too
The northern white cedar (cedar1) forest type occupies 1.3 million acres of Michigan forest, according to Michigan State University.edu forest types of Michigan. That is about 6.5% of the Michigan forests. The northern white cedar (Thuja occidentalis) which is not a real cedar, occupies 70% of the forest type volume in Michigan.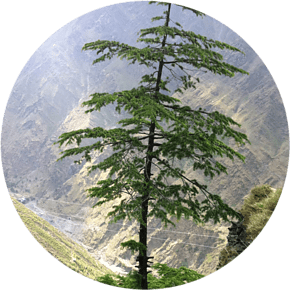 Types of Cedar Trees
True cedars are coniferous evergreen tree that can be found throughout the world. These trees get tall and have fan like foliage with small cones or tiny pink flowers.  When planting cedar trees you need to make sure you give them room to grow.
The cedars of North America that include Northern white cedar, Atlantic white cedar, western red cedar and giant sequoia all have flat, scale-like leaves with stringy bark. These are known in the Northeast, along the Atlantic coastline and Northwest.
Most cedar trees do well in hardiness zone 5 through 8 but some can be grown in hardiness zone 1 like the northern white cedar or zone 2 like the eastern red cedar tree. Just check the tags on the trees to find out if it's for your hardiness zone before purchasing or ask the Gardner at the nursery.
Types of True Cedar Trees
Atlas Cedar – Cedrus atlantica, grows up to 100 feet tall, native to Morocco and Atlas Mountain range, Zone 6 thru 9.
Cypriot Cedar – Cedrus brevifolia, grows up to 80 feet tall, an ornamental up to 50 feet. One of the rarest true cedar tree varieties. Native to the Paphos Mountains, Tripylos and Troodos in Cyprus. Zone 6 thru 8.
Deodar Cedar – Cedrus Deodara, grows 40 to 70 feet tall and native in the Himalayan Mountains, up to 250 feet tall. Zone 7 thru 9.
Incense Cedar – Calocedrus decurrens, grows 70 to 110 feet and 15 feet wide. Native in the Northwest from the tip of Southern California to the Canadian boarder. Does best in the Cascade Mountain range. Zone 5 thru 9.
Lebanon Cedar – Cedrus libani, grows 40 to 60 feet, some cases up to 120 feet. The first 20 years they only grow up to 20 feet. Native to Turkey, and the most hardy of the true cedars. Zone 5 thru 7.
Types of Faux Cedar Trees
Alaska Cedar – Chamaecyparis Nootkatensis, grows 30 to 45 feet tall and 10 to 15 feet wide. Native to the Pacific Coastline from Alaska to northern California. Zone 4 thru 8.
Eastern Red Cedar – Juniperus Virginiana, grows 40 to 50 feet and spread 8 to 20 feet at maturity.
Native to eastern North America from southeastern Canada to the Gulf of Mexico and east of the Great Plains. Zone 2 thru 9.
Northern White Cedar – Thuja Occidentalis, also known as swamp cedar, eastern white cedar, oriental arborvitae, eastern arborvitae or tree of life.
Native to Canada and as far as the arctic treeline. Grows to 65 to over 100 feet. Zone 1 thru 8
Port Orford Cedar – Chamaecyparis Lawsoniana, Grows up to 100 feet tall and 40 feet wide. Northwest native, best under marine conditions of northern California to southern Oregon Coastal range. Zone 5 thru 8
Spanish Cedar – Cedrela Odorata, also known as Cedarwood, West Indian Cedar or Cigar-box Cedar. Grows up to 65 feet tall. This tree has an odor of strong smelling onions or garlic and flowers have a strong malty smell. Native to tropical areas, like Peru, Brazil, Mexico to Ecuador and the Caribbean. This tree is considered endangered due to the over exploitation. Zone 10 thru 13.
Western Red Cedar – Thuja Plicata, also known as Pacific red, Giant Red Cedar or Giant Arborvitae. Can grow up to 50 to 70 feet tall, spread 15 to 25 feet. Native to Pacific Northwest in cool, moist areas, southern boarder of Alaska long the Pacific coast to northern California and northern Rocky Mountains.
Also, from British Columbia to Montana. Zone 5 thru 7.
I am going to highlight the eastern red cedar and the northern white cedar. Those are the 2 kinds we planted here at the Simongetti North.
Also in my research I found they are not real cedar trees at all
Eastern Red Cedar Tree
The eastern red cedar is native to Michigan, grows in dry fields or wetlands in the southern half of the Lower Peninsula and extends as far south as almost the Ohio boarder.  The eastern red cedar, the young plants have sharp-pointed needles and yes they do! I got poked a couple times when we planted these. As the plant gets older the foliage is scale like and less flattened, no pointed needles. Bark is reddish and looks like its peeling bark strips. This produces fleshy, berry like seed cones that turn pale white to blue when ripe. The foliage often turns reddish brown in the winter.
Hardiness zone – 2 through 9.
Mature Size – 40′ to 50′ tall and 8′ to 20′ wide – pyramid shape
Growth Rate – Medium rate – 13″ to 24″ per year
Lighting – Full Sun. At least 6 hours of direct sunlight
Soil – Acidic, alkaline, loamy, moist, rich, sandy, silty loam, well-drained and clay soils.
Wildlife – they don't normally eat this one but if food is scarce in the winter, they will eat anything that is green
Northern White Cedar Tree
In my research I found the northern white cedar is not a true cedar. The common horticultural name is "Arborvitae" and others in the genus Thuja. The words "Arborvitae" is Latin for "tree of life". It was said that the early French explorers drank tea made with cedar foliage to prevent scurvy.
The northern white cedar is one of the five most common trees in Michigan.
Both the seedlings and mature tree have scale like leaves. The branches are frequent and regular. This tree produces seed cones that turn brown when ripe. The ripe cones show visible scales that come apart easy. The bark is more grayish, with broader and thicker ridges. The foliage ranges in color too yellowish to dark green.
Hardiness Zone – 2 thru 8.
Mature Size – 20′ to 40′ tall and 10′ to 15′ wide – oval shape
Growth Rate – Slow
Lighting – Full Sun
Soil – Moist, well-drained soils but can adapt to adverse soil conditions
Wildlife – Cedar foliage is a favorite winter food for whitetailed deer, they may not eat it during the summer months when other food is available.  I already caught 2 small deer eyeing up our white cedars we planted. Will be adding protection around them.
Happy Planting!
It has been a busy week here at the Simongetti North, getting trees planted before the weather turns really warm. The best time for planting cedar trees or any tree in Michigan is right after the ground is thawed. You can also plant in the fall, but I like the spring the best. Then you can see how they do all summer. If you plant in the fall it could be a crap shoot to see if it will live depending on the winter if it is mild or harsh.
We also planted some blue and white spruce trees. There will be a post coming out about those too!
Do you have any real or faux cedar trees?
Which ones do you have?
Please leave a comment below, I would love to hear from you!
Cheers!
Chris

Please follow and like us: