Hello!
Today I want to talk about what is the benefits of gardening. Personally I love gardening. When I am in my garden I enjoy watching things grow and seems to keep my stress level and anxiety levels low. Having a garden has many benefits that you can enjoy at home.
Do you have a garden? Are you considering starting a home garden? Having a home garden not only provides you with lots of sustaining fresh food when planting vegetables, herbs and fruits but gardening can improve your mental health and physical health but your overall well-being.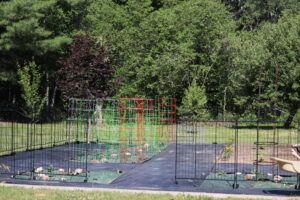 Gardening Health Benefits
Gardening has always been a place for people to find tranquility, healing and known for it's relaxing qualities. When growing your own food gardening can particularly be gratifying and an excellent source of fresh produce from your home. From the beginning of soil preparation to harvest, there is always something to do in the garden.
One of the great gardening health benefits is a great source of exercise. I can attest to that!   My muscles have been sore from getting my garden ready and planted. Michigan State University extension, is working to promote private gardens as well as community gardens.
According to the Center for Disease Control and Prevention (CDC), states that moderate-intensity level activity for 2.5 hours or more can reduce the risk of obesity, high blood pressure, osteoporosis, heart disease, stroke, depression, anxiety, colon cancer, premature death and type 2 diabetes. The CDC considers gardening to be a moderate-intensity level activity that can help you reach the goal of 2.5 hours of exercise per week.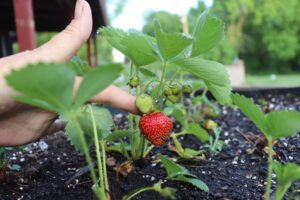 People who choose to garden as their moderate-intensity level exercise are more likely to exercise 40 to 50 minutes longer that those who choose to walk or biking for exercise. Michigan has many various community garden spaces which assist in keeping the community vibrant and healthy.
When you are gardening, both arms and legs are working. Exercising both the arms and legs is recommended to help prevent illnesses like coronary disease. Gardening is a great exercise that works your entire body.
"A 10% increase in nearby green space was found to decrease a person's health complaints in an amount equivalent to a five-year reduction in that person's age" according to the Gardening Matters nonprofit of Minneapolis' page "Multiple Benefits of Community Gardens."
Few Benefits for Gardening
Inspiration to eat healthier
Stress relief
Counts as Exercise
Vitamin D
Family activity
The benefits of gardening definitely extend past this list. Just knowing where your food came from and how it was grown give you peace of mind that you are eating healthy food you grew yourself right at home.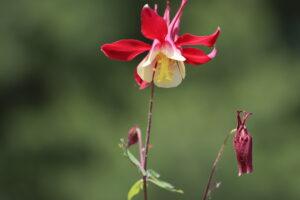 Gardening for Mental Health
Accoring to Michigan State University Extensions, gardening has recently been proven scientifically to relieve stress. Stress can be very damaging to your overall health. Stress can cause irritability, stomach aches, headaches, heart attacks and can worsen preexisting conditions.
There is an article published in the Journal of Health Psychology compared gardening to reading as a stress-relieving activity; test subjects that gardened experienced a more significant decrease in stress when compared to the people that were assigned to read.
According to the journal Biological Psychiatry, some experts say the fresh air can help prevent Attention Deficit Hyperactivity Disorder (ADHD) and it resulted in higher test scores for students.
The benefits of actively taking care of a garden:
Physical Activity
Boosts self-esteem
Stress reducer
Improves memory
Gardening can increase Property Value
Other benefits of gardening, gardens are also known to increase property value and save money on grocery shopping. One of the simplest ways to increase your property value is with a garden. You don't have to have a green thumb or be an expert landscaper to spruce up your property with a garden.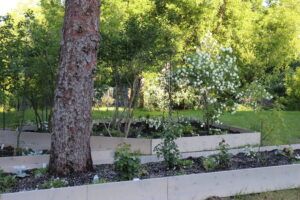 Gardening can be done at different levels that is easy to do. Instead of a flat garden, you can change the elevation of the garden, that can have a few benefits:
Creating better views
Increase outdoor living space
Provide air circulation
Improve aesthetics
Have you considered raised boxes for gardening? I did it for my moon garden. You can build them yourself or purchase them on Amazon. There are several types of raised garden beds. Every garden is unique to the individual who created it. Don't be afraid to try new things when creating a big garden in a small space. I have 20 acres, I have plenty of gardening space but you also don't want to become a slave to the gardens. Create what you have time to maintain.
When creating a garden you need to think about its functionality and maintenance. What are you going to plant in the garden? If you are creating a flower garden, consider native flowers in your area. They are easier to maintain and take less work. Having native plants is "Eco-Friendly" since native plants grow without as much water.
If you are putting your home on the market, you will want your garden to appeal to the potential buyers. Make sure the garden is nice and tidy, no weeds. If your garden looks overgrown and messy, potential buyers will not want to deal with it. If the garden looks nice, tidy and lush they will be excited to have the garden.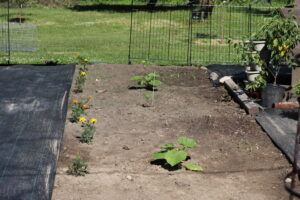 Gardening with Kids
Gardening can be a great learning opportunity for kids and other members of the family. Teach kids how to grow their own produce is a great way to encourage healthy eating but also shows them how to grow their own produce as adults. Teaching them some homesteading and informing them about sustainability is one of those teachings that will always stay with you and come back as an adult.
Benefits of Gardening with Kids:
Life Lessons
Exercise
Helps Picky eaters
Educational
Family Bonding time
The garden can be any size, large to small to containers. My grandchildren love looking at my garden and seeing what is growing at the different stages. There are vegetable and flower seeds that germinate faster than others. Picking seeds that germinate fast keeps the kids interested.  Check out my post Easy Gardening with Kids.
Happy Planting!
As you can see there are many reasons to have a garden. Many physical, and mental health benefits and life lessons with children and grandchildren.
Do you have a garden? What kind? Container or Raised Beds? Conventional garden? Flower, Vegetable or Both? I have both and a Moon Garden.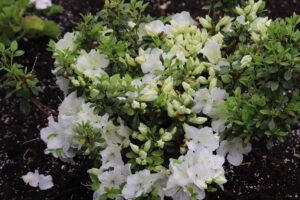 Please leave a comment below, I would love to hear what type of garden you have and what are you growing?
Check out my Facebook group and ask to join if you are interested in gardening groups by clicking the link below.
Gardening at the Simongetti North
Also Check out my YouTube Channel – I am new to YouTube, please check out my channel and like, and make a comment to help my algorithm and support my channel by just becoming a Simongetti Subscriber today. Click the link below.
Gardening at the Simongetti North
Cheers!
Chris

Photo's provided by Gardening at the Simongetti North
Various pictures from my gardens
Please follow and like us: