Hello!
The whimsical fairy garden and miniature garden! These are little gardens with miniature items that can be added with plants and fairy garden accessories or dollhouse type accessories for a miniature garden. There are many miniature fairy garden ideas and miniature garden ideas to choose from. They are fun to create and the best part is you get to create it the way you want it. Be creative, there are no rules for backyard fairy garden ideas and miniature garden ideas.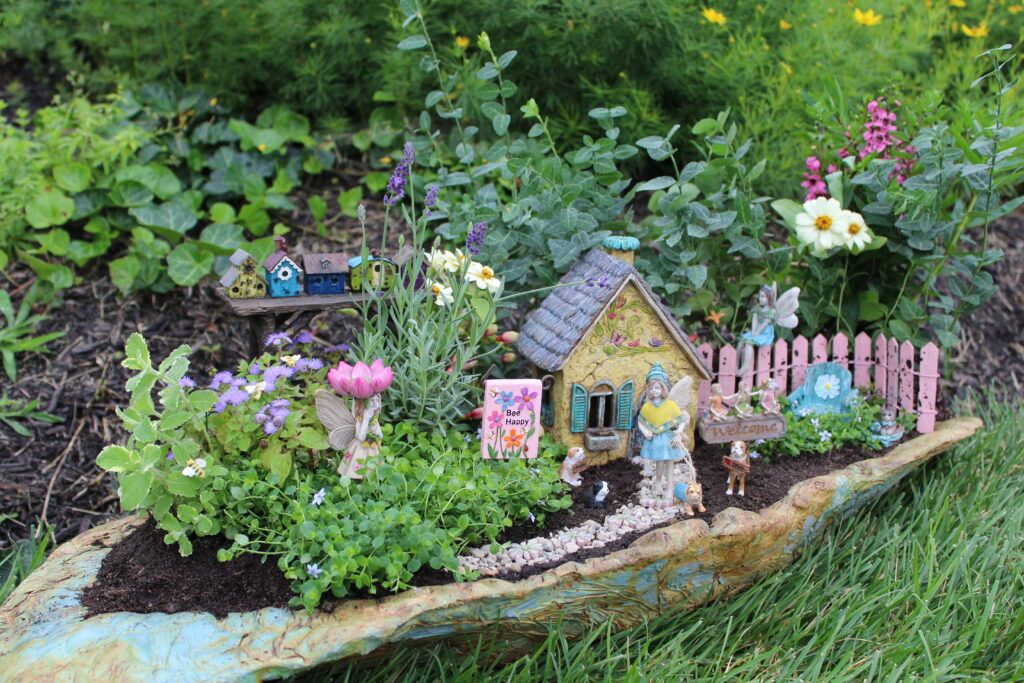 This is something you can create with the kids or grand kids. My grand kids love the fairy gardens I have set up in the past. Since we moved I haven't set them up yet. I will be setting them up this spring and probably adding more fairy gardens in different spots for them to enjoy.
I might even try a miniature garden.  I just need to figure out where I want to display it.
How to Create a Fairy Garden
First you need to decide where you want to put it. You only need a small space or a container to create one. You will want the fairy garden to be out of the way of traffic in the yard. The other thing you will want to do is get some fairy garden supplies from either the dollar store or Amazon has fairy garden supplies as well. I have found fairy garden supplies at hobby stores too. I would say the fairy garden is probably going to be in the shade, if it's out of the way, unless you do some sort of container fairy garden on a sunny porch is fun too.
When deciding on a container, you can use just about any container for your fairy garden. You can use an old barrel, wheel borrow, combine clay pots together, use old bowls, build around an old tree stump or even an old bird cage, there are many ways to present the fairy garden. Let your imagination run wild.
Best Plants for a Fairy Garden
There are some awesome plants to incorporate in your fairy garden that work great for the right look. 

Ageratum – has blue blossoms to make it bright and colorful
Fairy Rose – Everblooming heirloom rose
Chinese Lanterns – these are a cute addition to a fairy garden as they resemble lanterns.
Lambs Ear – this plant is about texture.  It has silver, gray velvet leaves that kids love
Thyme Seedlings – these impersonate small trees for a fairy garden
African Violets – are miniature flowers, nice for a fairy garden
Cherry Tomatoes – I think this would be like a jack in the bean stalk scenario for a fairy garden but it would be good edibles in the garden.
Pelargonium – these are delicate flowers with mostly evergreen, a pretty touch to a fairy garden
Lettuce – is another good one for the fairy garden.  You can also eat the lettuce.  If on the ground you might not want lettuce or the rabbits will eat it.
Nasturtiums – come in bright jewel colors and are also edible.  Add a nice touch to any fairy garden.
FlapJacks – has flatten paddle style leaves, that resemble a succulent. Only water when the top first inch is dry.
Rosemary – gives the look of small pine tree's look.  A nice addition to the fairy garden.
Ornamental Pepper – Produces sweet fruits safe for children that has multi colored twisted fruit.
Sage – add a nice texture element to any fairy garden.
Chives – easy to grow perennial plant,  A nice addition to a fairy garden
Strawberries – are a great addition to the fairy garden,
Sunset Runner Beans – this has peach and pink flowers with slender pods with deep purple to black beans.
Calandiva – this adds color and texture to a fairy garden
Brights and Darks – these plants will add some interest to the fairy garden. Mix lighter and darker plants with intense color in the fairy garden.
Creeping Speedwell – bright vibrant color and will create a carpet for the base of the fairy garden.
Lavender – having a dwarf lavender plant in the fairy garden will have a nice calming fragrance that everyone will enjoy.
Miniature Garden Ideas
A miniature garden is a little different than a fairy garden.  A miniature garden is literally a living garden, growing a garden on a much smaller scale, using miniature dwarf trees and scrubs with added small-leafed perennials and groundcover to create the understory of the garden bed.  This garden will need a couple miniature accessories to tell the story of the garden.
The difference between the fairy garden and miniature garden is the fairy garden is usually based on the fairy garden accessories and supplies then the plants around the fairy garden items.
When creating a miniature garden, make it real, using real small trees and plants to make it look like an outdoor garden.  For best success the plants all should have the same watering and lighting needs.  The container should be able to drain excess water unless you know how not to over water.  Make sure the accessories you get go with the scale of the plants you choose, by making it look like a real park or woodland area.
When selecting container and accessories, here is a way to make sure you are getting the correct sizes.
For a container that is 10″ or larger, or for a in-ground mini garden, use the 1″ accessory size
for smaller pots 10″ and under, use medium or 1/2″ accessory size.
For the tiny pots 2″ to 4″, use 1/4″ accessory size
Indoor Miniature Garden plants options.
Baby Tears
Corsican Mint
Dwarf Mondo Grass
Ellwood's Blue Cypress
English Boxwood
False Cypress
Parlor Palm
Norfolk Pine
Sugar Vine
Zebra Haworthia
Outdoor Minature Garden Plant Options
Cranesbill
Dwarf Mugo Pine
Irish Moss
Jean's Dilly Dwarf Spruce
Just Dandy Dwarf Hinoki Cypress
Miniature Daisies
Miniature Juniper
Platt's Black Brass Buttons
Sky Pencil Japanese holly
Small Hens & Chickens
When purchasing the plants make sure you are getting plants for a miniature garden. Some garden centers are not up to speed on what these are and what type of plants are needed.
Happy Planting!
I love fairy gardens and miniature gardens.  They are so cute and you can style them anyway you like.  I didn't realize how big of a thing fairy gardens and miniature gardens are.  In my research I found there is an actual Miniature Garden Society for the people who are really serious about miniature gardening.
==>Click here to read my Review for Online Nurseries<==
==>Click here to read my Review for buying Gardening seeds<==
Do you have a fairy garden or miniature garden?
Please leave a comment below, I would love to hear from you!
Cheers!
Chris

Please follow and like us: