Hello!
Have you wondered what to get the gardener in your life for Christmas, Birthdays or just because? In this post I am going to give you gardening gift ideas for the gardener in your life. Some of these ideas are gardening gifts for women or gardening gifts for men. Here are some of the best gardening gifts in this review.
Gardening Gift Ideas – Gardeners Supply
I am going to list some of the best gardening gift ideas for the gardener in your life. (In this section there are affiliate links. If you select one of these links and purchase a product(s), I may get a small commission to support my website and you get an amazing product at no extra cost to you).
Gardeners Supply – Click Here!
Give the gardener in your life some sharp tools. Indispensable compact Pruning Tool Kit in a ready-to-give box.
The Gardeners Pocket Tool Set for $39.95
Compact, easy-to-carry pruning tools make precision cuts
Ergonomic design reduces hand fatigue
Set includes pruners, snips and sharpener
Gift-boxed set will delight any gardener, from beginner to expert
Your gardener can carry these handy snips and pruners any time they head to their garden for harvesting vegetables, herbs and fruits; cutting flowers for bouquets; and light pruning and deadheading.  The ergonomic, non-slip grip and super-sharp blades allow you to make precision cuts without
damaging nearby stems.  A sliding lock lets you stow them safely.  And the Tool Sharpener lets you maintain the sharp edge on these tools, as well
as other pruners, loppers and shears.  Set includes Gardener's Supply exclusive Pocket Pruner, Pocket Snips and Tool Sharpener.
Product Details
GSC Pocket Snips and Pruners: stainless steel blades, thermoplastic rubber handles; 5-1/2″ L overall with 1-1/2″ L blades
Tool Sharpener: tungsten carbide, nylon, fiberglass, ABS plastic; 6″ L x 3/4″ W x 2-1/2″ H
Gardener's Supply Exclusive
Does the gardener have somewhere to save, store and organize their seeds?
Galvanized Seed Saver Kit for $39.95
Organize seeds by type, planting season, color, location, and more
24 paper envelopes and 6 dividers have ample space for notes
They will be able to cut their annual seed costs, replicate a scrumptious heirloom crop, or share your gardening success with others by saving their own seeds. Whether it's just a couple of tomato varieties or a bevy of pollinator-friendly flowers, this spacious seed box will keep every kernel safe 'til planting time.
Once you've dried and prepared the seeds for storage, tuck them into the paper envelopes where they'll stay safe, dry, and protected until you're ready to bring them to life. Contrasting color dividers make organization a breeze. Additional paper envelopes and dividers are available separately.
Product Details
Galvanized steel, paper
8″ L x 6-1/2″ W x 6-3/4″ H overall
24 envelopes are 4-3/4″ L x 3-3/4″ W each
6 dividers are 5-5/8″ L x 3-3/4″ W each
Every gardener needs a hat to protect their head from the burning sun.
Womanswork Raffia Hat $39.95
Lightweight
UPF 35
Adjustable fit
There's nothing worse than a rewarding day of gardening ruined by a painfully burned scalp or nose.  Sunscreen is a great protector, but it's often not enough.  With its wide woven brim, this hat protects your skin and keeps your face and neck shaded too.  Flexible and crushable, it'll stand up to all sorts of abuse and still keep you properly protected!
Product Details
Raffia
Crown: 15″ dia. x 6″ H
Brim: 4″ D
One size fits all
This is a great idea for starting seeds, they can be cleaned and reused every year.
Galvanized Metal Seed Starting Trays $34.95
Enjoy seed-starting success year after year
Tapered pots let you easily remove seedlings
Sturdy galvanized steel tray lets you carry plants with confidence
Gardeners Supply designed this system for many seasons of successful seed starting. The leak proof tray holds 24 individual cells, so you can bring
the ready-to-transplant seedlings to the garden without disturbing the other plants. That way they can continue to grow until they, too, are ready for the garden. We even tapered the cells so seedlings are easy to remove.
This next idea is great for gardening for storing tools. Fits any 5 Gallon Bucket.
Womanswork Bucket Caddy for $32.95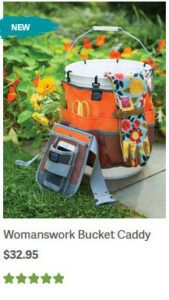 No need for fancy tool bags if that's not your thing. Just grab an old 5-gallon bucket, strap this clever organizer to it, and voila! Your own handy caddy that looks, fancy! Fill the pockets with all your favorite hand tools, seed packets, twine — whatever you need for the task at hand!
Product Details
Polyester & PVC mesh
19″ W x 11.25″ H x .25″ D
Hooks approx. 1.5″ H x 1″ W
12 pockets hold all your essential gardening gear
Water resistant
Every gardener needs gloves that protect their arms. I have this pair of glove and I absolutely love them.
Arm Saver Gloves $32.95
Reinforced palm and thumb
Cinched cuff keeps debris out
Machine washable
Designed to fit a woman's narrower hand, this is a great glove when you're tackling thorny jobs. Cotton twill with synthetic leather palm, doubly
reinforced and thumb pointer finger tip, and extra long cuffs to arm you against scratches, insect bites, and burning sun. A touch of spandex
gives the cotton flexibility and comfort. Machine wash in cold water and air dry.
Product Details
Cotton twill with spandex
Synthetic leather palm
Sizes: Small, Medium, Large
Not sure what to get the gardener in your life that has everything? Who wouldn't love a beautiful Amaryllis bulb?
Get a Potted Amaryllis Bulb $29.95


Order by 12/9/2021 for delivery by 12/24
No-fuss gifts loved by all
Larger bulbs deliver bigger blooms
Give or keep for weeks of joy
Shipping begins 11/24
Give the season's most glorious gift! Amaryllis bulbs are easy to grow and produce magnificent blooms for weeks of enjoyment. We hand-picked these stunning Dutch varieties to brighten your winter days and bring holiday cheer to family and friends.
Quantities of these premium bulbs are limited; order early for the best selection.
Bulbs begin blooming in 6-10 weeks; each will produce 1-2 flower stalks.
Apple Blossom: Large, funnel-shaped white flowers delicately brushed with the softest pink
Magnum: A classic holiday red amaryllis whose extra-large blooms have a satiny sheen
Cherry Nymph: Double, vivid red blooms make this winning variety a longtime favorite
Marilyn: Voluptuous double white flowers with faint green undertones are sure to turn heads
Spartacus: Candy cane-striped petals surround a pale green throat on this festive, red-and-white beauty
>>>>= Click Here to see more Gifts at Gardener's Supply =<<<<
Bulb Gifts – BloomingBulb
Pre-planted Indoor Gardens have Free Shipping! A great gift for a friend, family member, or yourself! Watch these pre-planted bulbs grow and bloom in any indoor sunny spot. Flowers bloom in approximately 4-6 weeks depending on bulb variety. Great for small spaces that need some spring color: dorm rooms, RVs, retirement homes, table centerpieces, and more!
(In this section there are affiliate links. If you select one of these links and purchase a product(s), I may get a small commission to support my website and you get an amazing product at no extra cost to you).
Bloomingbulb Click Here
Check out some of the options, there are more options from the website.
   >>>>= Click here to see more Bloomingbulb Gifts =<<<<
Garden Gift ideas – Botanical Interests
I have this basket in the large size. It's great for harvesting from the garden. Don't purchase this on Amazon. I found it to be at least $10 more expensive there. Use my link to get the price here.  This basket could be used as a Garden Gifts basket.  If you purchase the basket, you could put other garden gifts in the basket.
(In this section there are affiliate links. If you select one of these links and purchase a product(s), I may get a small commission to support my website and you get an amazing product at no extra cost to you).
Botanical Interests Click Here
Harvest Basket $46.95 or $54.95
Styled after a traditional, New England clamming basket, this harvest basket is not only beautiful but it is sturdy enough to become a family heirloom. Veggies can be rinsed off right in the basket. Crafted of pine, birch and oak with a weather-resistant, hand-rubbed oil finish and food-grade vinyl-coated wire to last many years. From Maine Garden Products.
Features:
Small – $46.95
16″L x 9″W x 5 ¼"H
8-quart capacity
Bent oak handle with 8″ clearance
Weather-resistant
Large – $54.95
19″L x 11″W x 7″H
16-quart capacity
Bent oak handle with 9″ clearance
Weather resistant
The Perfect little desk calendar
2022 Botanical Interests Desk Calendar – $7.99
The desktop calendar is back for 2022! The award-winning design is botanically inspired, with illustrations of our newly introduced varieties. Consider it a little window into your garden with space for keeping garden notes on the back of the tent. This is one of our most requested items, as they are handy as well as beautiful, and make excellent gifts!
Size: 6.25″ x 4.75″
Does your gardener have a tote bag?
Tool Bag – $39.95
This attractive and very practical tool bag is just the right size; not too large and bulky to carry as you garden, even loaded with tools.  A large, central compartment holds the bigger items, and eight exterior pockets hold your favorite hand tools.  Six of the pockets are self-cleaning, featuring a mesh bottom so the dirt on the end of your tools can just fall out!  An elastic strap above these pockets keeps the tools firmly in place, eliminating the risk of the tools tumbling out as you move about. Handles of thick, cotton webbing are riveted to the bag for strength. The whole bag has a wipe-clean
coating.
Features:
Holds lots of tools without being to large
Sturdy materials
Wipe-clean coating and self-cleaning tool pockets
12″ wide, 6″ deep, 8″ tall
Burgon & Ball tools have been awarded endorsement by the Royal Horticultural Society, one of the world's leading horticultural organizations.
>>>>= Click here for Botanical Interests =<<<<
Happy Planting!
Here is just a small list of items that any gardener would love to have for a gift. These are some of the perfect gifts for most gardeners.  I have a lot of these items and love them.  I have purchased amaryllis and paperwhites from Bloomingbulbs and they are growing great.  Have you purchased any of these items before?  Please leave me a comment below and let me know if you already have some of these items or if you clicked on one of my links and purchased an item.  I would love to hear from you.
Hope this post helps you with any gift ideas for the gardener in your life.
Cheers!
Chris

Please follow and like us: